TECHNOFORUM-2007 - New Project Pushing Advanced Solutions to Help Rejuvenate Russian Machine Building Sector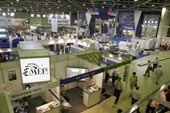 Within May 28-June 1, 2007, the show grounds of Expocentre Fairgrounds were engaged to support "Technoforum-2007" – the first international specialized exhibition of modern materials processing technologies, intelligent machine tools, equipment and instruments.
The new project has been put into effect by Expocentre Fairgrounds together with "Stankoinstrument" – Russian Association of Machine Tool Manufacturers, with the Moscow City Government providing relevant backing and participation.
Importantly, "Technoforum" has been designed to expand the activities maintained by the "Metalloobrabotka" exhibition – the largest Russian-based international forum of metalworking technologies and industrial lines. "Technoforum" events will be run in odd-numbered years, while alternating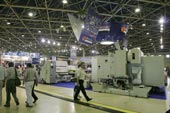 with "Metalloobrabotka" exhibitions now scheduled for even-numbered years.
The arrangers have primarily been motivated by the encouraging state of play in the domestic market for machine building products, with the numbers of "Metalloobrabotka" participants and visitors being increasing on the rise over the past few years. Given the ongoing Russian economic expansion, the time now is definitely right for holding annual specialized shows of metalworking technologies and top-of-the-line engineering products desperately needed to assure retooling or upgrading of local machine building enterprises.
Notably, "Technoforum-2007" priorities for the most part covered the following areas: advanced knowledge-intensive technologies and smart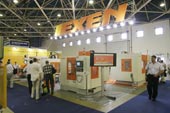 machine tools, growth-capable automated industrial lines for machine building facilities, new custom-designed software applications, operational rigging gadgets and peripherals.
To be more specific, "Technoforum" participants demonstrated: dedicated engineering solutions designed to support industrial refitting and retooling tasks; metal-cutting assemblies; molding suites; outfitting applications and measuring instruments; surface-polishing compounds, materials and tools; industrial line control systems; parts and components; retrofitting solutions; multi-functional workshops to support enterprise-wide service support and maintenance tasks; just as a host of other most compelling products and technologies.
The Exhibition was attended by the world's leading industry associations, unions and high-visibility foreign manufacturers of machine tools and
instruments that are known to have no rivals in today's world.
Participants included over 350 exhibitors from the following 15 countries: Belarus, Bulgaria, the United Kingdom, Germany, Spain, Italy, the People's Republic of China, Poland, Russia, Serbia, Turkey, Ukraine, France, the Czech Republic, Japan. To underscore, foreign participants featured such majors as Fagor Automation (Spain), Emag, Siemens (Germany), Mitsubishi Electric Europe B.V., Sodick Company Ltd, Fanuc (Japan), just as a few other great names.
Displaying their best achievements in domestic machine building were 150 firms and enterprises, some of those including OAO "Sterlitamak-Ě.Ň.Ĺ.", ÎŔÎ "SASTA", ÎŔÎ "Krasny Proletary", "ASB-Tekhnika Group", Saint Petersburg-based ZAO "TBS", OAO "Stan-Samara",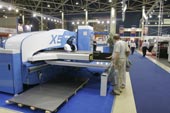 Krasnodar-based ZAO "Sedin", Samara-based ZAO "TZS", not to mention other high-visibility companies.
Industry R&D assets and trade–school training capacities held by the Russian machine building sector were demonstrated by the thematic section "Science, Education and Manufacturing".
Importantly, the Exhibition's large-scale business support program featured the two-day developers' conference "New Technologies, Industrial Lines, Tools and Instruments for Domestic Machine Builders" and a sequence of specialized round-tables, workshops, presentations, consultations and seminars, with the leading academia and research-center-based talents offering their perspectives and sharing ideas on development and certification of newly created technologies and products.
To emphasize, arrangers had put together a business-center holding all relevant office equipment and furnishings, conference rooms and a coffee bar for exhibitors and their partners to hold negotiations or business conversations while enjoying the comforts of a specially assigned and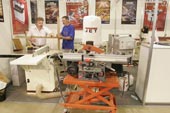 beautifully appointed area.
The upcoming "Technoforum-2007" event featured the "Lesprombusiness-2007" exhibition primarily designed to promote and further the best effort of "Lesdrevmash" - the largest Russian-based forum covering the lumber milling and woodworking industries. To add, "Technoforum-2007" carried the international salon "New Technologies, Vehicles and Platforms for Logging and Milling Operations", the affair being organized by Expocentre Fairgrounds together with OAO "Centrlesexpo" and adjacent open-air pads, with relevant assistance and participation coming from the Union of Russian Loggers and Lumber Exporters and "Roslesmash" Association of Logging and Milling Machine Builders.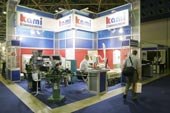 The "Lesprombusiness-2007" Exhibition came as an integrated affair bringing together assorted display stands designed to carry ready-made and prefabricated wooden frame sets, wood milling and processing technologies, specialized saw mills and industrial suites, quality assurance tools and instruments, industrial assembly control panels, new developments and products from the leading industry research centers and RMD facilities.
The Salon-based activities were attended by close to 60 firms from Belarus, Germany and Russia, some of the bigger names including Intertrade, Ęŕmi-Stankoagregat, ÎÎÎ "Tigrup", "Roslesmash" and other companies.
The dedicated business support program featured a range of seminars, round-tables, symposia and other functions.
Clearly, "Technoforum-2007" offered excellent opportunities for exhibitors to demonstrate and promote their new products in the volatile high-tech machinery market conditions. Also, it is certain to help attract investments in the sector of advanced technologies and smart products that are expected to be made available for the domestic market as part of the ongoing nationwide projects.
---