TECHNOLOGICAL BREAKTHROUGH IS CALLED TECHNOLEADER 2020
26 / 10 / 2020
Norilsk Nickel acted as a strategic partner of Russian Industry Week and the Technoforum 2020 exhibition held in Moscow, which traditionally serves as a platform to showcase the latest equipment from various industries and discuss technological trends.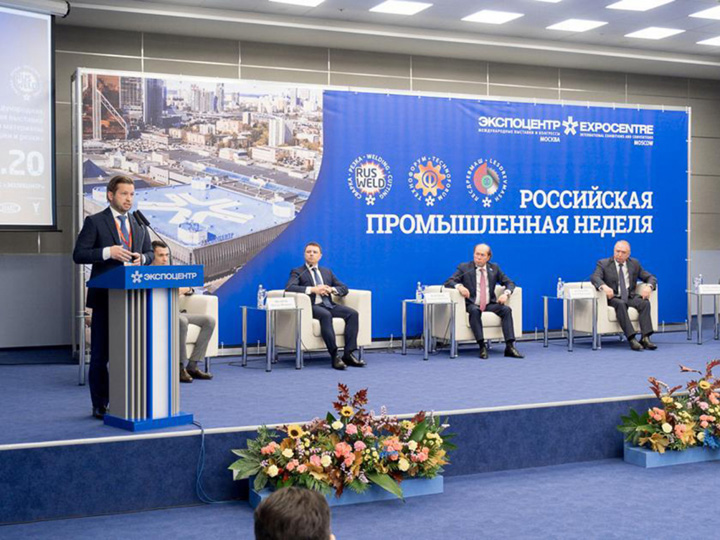 "Exchange of experience in the use of innovative equipment and advanced technological solutions in key areas of heavy industry will certainly serve as a significant impetus for many companies on the path of modernization of production processes. Our company pays great attention to digitalization of manufacture and technological processes, which are part of the corporate development strategy. Nornickel uses digital technologies to solve two tasks: to increase internal efficiency and to create new products and solutions based on digital technologies", Dmitry Pristanskov, State Secretary and Vice-President for Cooperation with Authorities of Nornickel, said.
During the plenary part, Sergey Radkov, Head of the Digital Production Division, told about the main projects implemented in the Digital Laboratory Division, about the Technological Breakthrough Programme, as well as about the launch of the large-scale training programme "Digital Nornickel".
"Innovative ideas surround us everywhere: some of them turn into real projects, proving to be effective, some of them disappear as soon as they emerge", Sergey Radkov said.
The Technological Breakthrough Programme won the Technoleader 2020 award at the TECNOforumLEADER competition for the application of new principles of manufacturing organisation and technologies, which allowed to achieve the growth of productivity and efficiency of the enterprise. The competition, held annually during the Technoforum 2020 exhibition, is designed to identify the most complex and interesting projects and best technologies, as well as to unite and strengthen the community of manufacturers and users of machinery and technology of manufacturing industries.
Digital Laboratory is a separate R&D division of Nornickel, which studies new technologies and their possible application in business and production processes of the company. Digital Laboratory interests include big data, virtual and augmented reality, IoT and machine vision, robotisation and digital twins. Laboratory staff solves production problems with the help of digital technologies. More than 200 initiatives are studied in the laboratory, 70 of them are at different stages of the life cycle.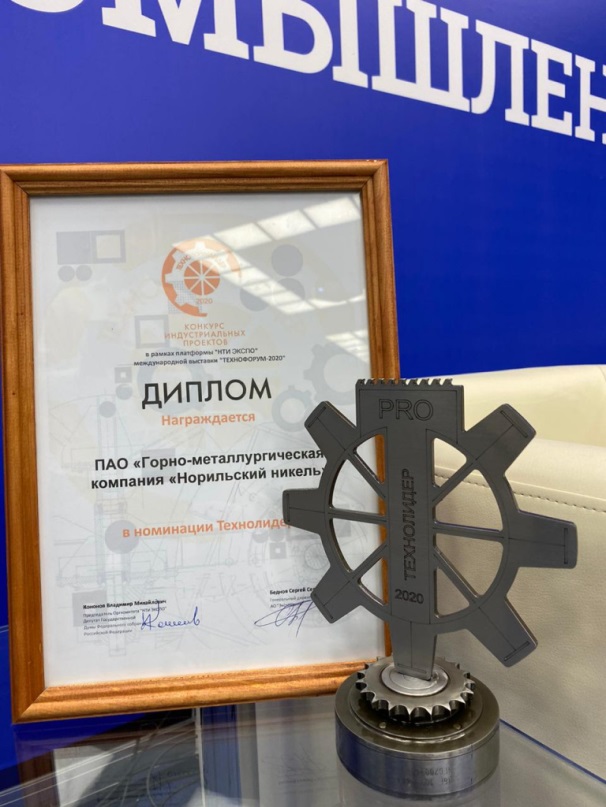 Technological Breakthrough, the complex programme of Nornickel's operational efficiency improvement, was also featured at the event. Since 2015, the programme resulted in implementation of 44 new information systems in the company, with over 3,000 users.
In 2020, Nornickel started the second part of the programme - Technological Breakthrough 2.0. It includes over 50 new projects. Implemented and ongoing projects to automate and digitize production and business processes under the first phase of the programme allowed the Company to start building a digital desert mine. Ore extraction at the Glubokaya pit of the Skalisty mining plant at a depth of 2-2.5 km will be carried out in maximum autonomous mode by 2025.
Autonomous control of machinery and processes will maximize safety in the mine. Employees will be able to work away from hazardous areas. Influence of human factor will be reduced, production efficiency will increase. New processes related to autonomy will require new knowledge and competences.
In order to adapt the staff to the new conditions, to form and develop knowledge, skills and abilities for effective use of digital technologies in the work, the Nornickel management decided to launch a large-scale training programme "Digital Nornickel", considering this step especially urgent in the conditions of forced isolation. The Digital Nornickel programme is designed to immerse employees in the Industry 4.0 concept and its components: large data, IoT, artificial intelligence and others - and to ensure that all employees are acquainted with the digital projects being implemented in the company. All participants will take a course on information security. This will allow employees to develop relevant competencies and improve their skills. Skills development is conducted in a virtual environment with innovative formats of distance training and interaction.
---