Technoforum 2018: innovative solutions for machine building and metal processing
Expocentre Fairgrounds opened its doors to the Technoforum 2018 International Exhibition for Equipment and Technology for Processing of Construction Materials.
This year, about 100 Russian and foreign companies from Belarus, China, Germany, India, Israel, Japan, South Korea and Switzerland occupy 2,000 sq m of Pavilion No.1 to demonstrate innovative solutions and ideas for machine building and metal processing.
Technoforum is accompanied by a lot of supporting events. The program was opened by the Conference on Additive Technologies organised by Rena Solutions and Expocentre AO.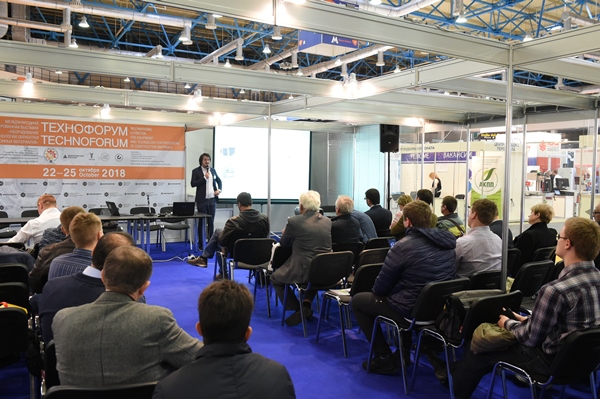 The Conference on Additive Technologies generated a great interest in the spring of 2018 at the Metalloobrabotka exhibition at Expocentre Fairgrounds. Now it is the first time that the conference is held within Technoforum.
"Today, additive manufacturing is the youngest and rapidly progressing technology. The world's major machine building companies promote it," said Nikolay Yudenkov, Director of Communications with Industry and Governmental Agencies at the Stankoinstrument Association, opening the conference.
According to the expert, 3–4 years ago about 500 million USD fell on machinery for additive manufacturing out of 85 billion USD of the total volume of machine building products. Last year this figure exceeded one billion USD.
Technologies of additive manufacturing are becoming more widely used together with conventional production technologies. This field has great prospects especially in medical, aerospace and some other industries.
The conference featured presentations of new Russian developments. Original projects and solutions were shown by IQB Technologies, Anisoprint, Siemens , Siemens PLM, Additive Solutions, Exclusive Solutions, Polema, Bauman Moscow State Technical University, REC , TRUMPF, TIK LVM AT and Filamentarno!.
Learn more at http://www.technoforum-expo.ru/
Press Service, Expocentre AO
---