Expocentre held a Press Conference to report full-year 2008 results
15 / 01 / 2009
On January 17th 2009 Expocentre held a Press Conference to report full-year 2008 results. It was held in Pavilion No. 7 of Expocentre Fairgrounds.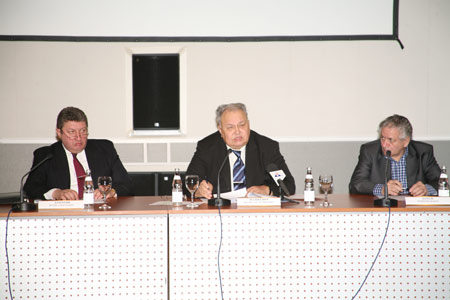 The report was delivered by Director General of Expocentre Fairgrounds, Vladislav L. Malkevich. He pointed out to a significant upgrade of all the pavilions and engineering facilities of Expocentre Fairgrounds. 2008 saw the completion of a new pavilion and transformation of a considerable amount of venue space into exhibition space. So the venue is now totalling 150,000 sq. m of general exhibition space, including 90,000 sq. m of indoor space.
Featuring the development prospects for the venue Mr. Malkevich announced that the development of the new pavilions adjacent to Karsnogvardeysky proyezd, which will accommodate a five-star hotel, pavilions No.9 and 10 and 1,500 seated modern congress halls, will come to completion in 2-3 years.
With a limited exhibition space, Expocentre is the leader in space efficiency. In 2008 the rate of space turnover of Expocentre Fairgrounds reached 18. This is the highest result in Europe and the second in the world, after the Shanghai Exhibition Centre.
In 2008 Expocentre Fairgrounds staged 36 in-house exhibitions totalling 350,000 sq. m of net exhibition space and hosted 72 guest exhibitions with a total net exhibition space of 360,000 sq. m. "Striving to develop in-house and guest projects we have almost achieved a 50:50 ratio", noted Mr Malkevich.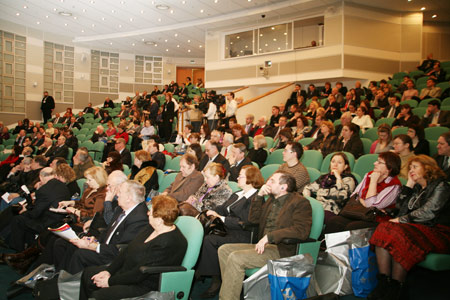 In 2008 Expocentre welcomed more than 30,000 exhibitors from 105 countries and attracted a registered visitor attendance of 1,000,000.
Reporting the financial results for 2008, Mr. Malkevich compared them with the year 2001. He said that over that period Expocentre saw a fourfold increase in gross revenue which in 2008 made up $166,000,000, it enjoyed growth in sales profit by a factor of 4.3 reaching $66,000,000 and a rise of 3.8% in labour efficiency.
In 2008 many of Expocentre's projects showed further development. For example, the rise in performance of the Elektro (electric engineering) Exhibition made up 13%, Metalloobrabotka (metalworking) – 23%, Neftegaz (oil and gas industries) and Lesdrevmash (woodworking) – nearly 30%, Mir Detstva (goods for children) – almost 20%, Mir Stekla (glass industry) – 15%, MSOO (ophthalmologic optics, autumn edition) – 86%, High Technologies of the 21st Century – 16%, Sklad. Transport. Logistika (warehousing and logistics) – 36%, Ladya (Russian arts and crafts) – 11% and Traffic Safety Forum – nearly 50%.
By now, 18 Expocentre's exhibitions have received a logo of UFI – the Global Association of the Exhibition Industry, which constitutes one third of all Russian exhibitions carrying this logo; and 22 exhibition of Expocentre have been awarded a label of RUEF – the Russian Union of Exhibitions and Fairs.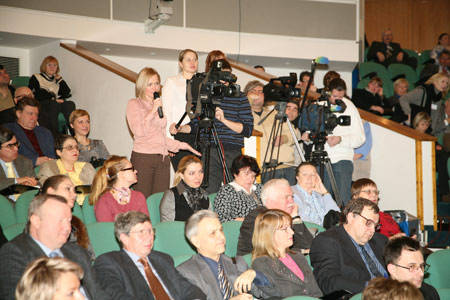 In 2008 Expocentre continued to work with specialist trade associations and unions, including the Russian Union of Timber Industrialists and Exporters, the Russian Meat Union, the Russian Union of Chemists, Roschimneft and many others. Expocentre enjoyed great support from the Russian and Moscow Chambers of Commerce and Industry. Among foreign partners Mr. Malkevich marked out ITE (UK), Ost-West Partner (Germany), Bologna Fierre and Fiere Milano (Italy) and Brno Exhibitions (Czechia). Among Russian partners mentioned by Mr. Malkevich were Restec, Euroexpo and PIK Maxima. The collaboration with PIK Maxima enabled Expocentre to add three more exhibitions to its programme, one of them featured the chemical industry and the other two were dedicated to children.
In 2008 Expocentre became a laureate of the European Quality Award, the International Socrates Award in the Economics and Business Nomination, the Contribution to Doubling of the GDP Award, St. Georgiy Golden Statuette, the Sacred State Insignia and the CEO of the Year All-Russian Award.
In 2008 Expocentre experienced a steep rise in its convention activity. Mr. Malkevich underlined that this sector was gaining dominance, with over 540 convention events relating to Expocentre's exhibitions and 70 independent convention events accompanied by exhibitions staged at Expocentre Fairgrounds in 2008. A remarkable example is the First International Congress on Nanotechology, with a concurrent exhibition on the show floor of 3,000 sq. m. Mr. Malkevich described this trend as a "sign of our times" which should be followed, and all exhibition events should be move towards a fusion of the exhibition and the forum formats.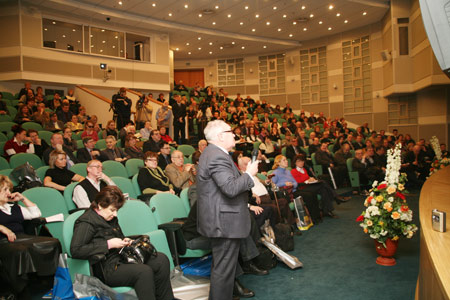 Speaking on the challenges of the year 2009, Mr. Malkevich noted that it is vitally important to tune the business activity of Expocentre into the current economic environment to minimize the effects of the crisis, to retain the professional staff and the programme of events.
The press conference was attended by Head of the Department of Exhibitions and Fairs of the Russian Chamber of Commerce and Industry Igor A. Korotin, and Chairman of the Board of Directors of Moscow Chamber of Commerce and Industry Yuri I. Kotov. They expressed a high opinion of the activity of Expocentre Fairgrounds – the main exhibition organizer in Russia and the only Russian venue capable of competing with the leading foreign exhibition centres. They also pointed out to a significant contribution made by Expocentre to the development of the exhibition industry in Russia's regions; and Expocentre's initiatives, making exhibitions an effective tool to fight the crisis.
---